W. Garfield Weston Foundation awards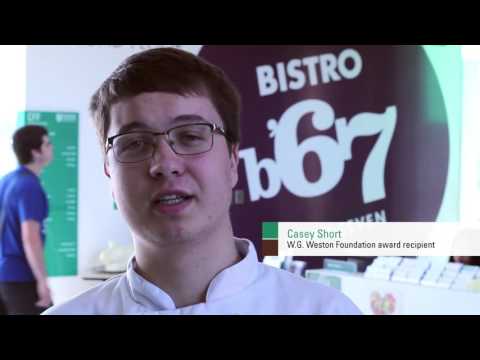 W. Garfield Weston Foundation Award
The current job market is full of exciting opportunities for qualified graduates equipped with the right combination of skills and knowledge. If you are interested in attending college but have financial obstacles in your path, Durham College (DC) wants to help, with up to $10,000 available to you through the W. Garfield Weston Foundation (The Foundation) awards.
These awards, in partnership with DC and the Oshawa Community Health Centre (OCHC) were established to prepare students through experiential and applied learning and offer the opportunity to access more than 30 exciting and career-focused eligible programs including:
Power Engineering Technician
Renewable Energy Technician
With an overall commitment of $462,000 from The Foundation and an additional $198,000 from DC, recipients of the W. Garfield Weston Foundation Award will receive $5,000 per year, for up to two years. This includes $1,500 for tuition and $3,500 for other expenses such as travel, food, books, tools and supplies.
OCHC – a community-owned, non-profit, charitable organization that offers free family medicine, counselling, and a variety of health promotion and community development programs – will connect with eligible students to determine if their skills and interests align with one of these programs.
Application Process for W. Garfield Weston Foundation Award
Step 1
Step 2
Submit a completed application 30 days prior to the start date of your program to the DC Student Awards office, Student Services building, Room 205, Oshawa campus, 2000 Simcoe St. N., Oshawa, Ont.
Questions?
The OCHC and DC are happy to help as you navigate the application process. If you have questions or need help with any part of the process, feel free to contact any of the support people listed below:
Durham College contact:
Elaine Catell
DC Student Awards office
T: 905.721.2000 ext. 2429
E: studentawards@durhamcollege.ca
OCHC contacts:
Ana Pacheco-Rye
OCHC
T: 905.723.0036 ext. 227
E: apachecorye@ochc.ca
Jeff Dart
OCHC
T: 905.723.0036 ext. 228
E: jeff@ochc.ca